Lire en Fête, Day 3
Today is saturday and the last day of Lire en Fête. It's also one of our biggest traffic days as many people are not working. Em Satya comes by again, as well as Or Yuthea, Sin Yang Pirom, and Chea Chhean.
I discuss with CCF librarian Pierre Andryc the possibility of more comics events.

Among others, an exchange proposal with Indonesia is being developed.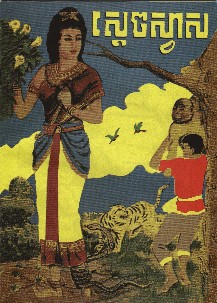 Alain Daniel is bringing back some archival comics from France. And in the market the other day, I find a comic that is obviously attempting to reprint a painted cover. It's clearly a copy of a pre-revolutionary story… who knows what hidden comics treasures are out there?
At 4:00 pm people begin taking down their displays. We load what we have into the truck, it's good to wrap things up!
Next Exposition: Siem Reap, January! See you then!